Kyoto (Japan) was the capital of Japan and the residence of the emperor from 794 until 1868. It is now the seventh largest city in the country with a population of 1.4 million people.
Over the centuries, the city was destroyed by many wars and fires, but due to its historical value, the city was left out of atomic bomb targets and was also spared from air raids during World War II. Kyoto has countless temples, shrines and other historically priceless structures that survive in the city to this day.
Kyoto nowadays is a city heavily populated by both residents and tourists who have also changed the atmosphere of the city a bit in recent years, but because of this, shopkeepers have increased and the city's economy has had a huge surge.
The city is divided into 5 major districts, Shimogyo (Kyoto Station), Higashiyama, Nakagyo, Sakyo and Yamashina; however, I prefer to give you an orientation of the city through north, south, east and west because it is not easy for us Westerners to remember the Japanese names. In the next few pages we will analyze the various areas of the city and what you can see, most of the spots are Buddhist temples or Shinto shrines but not only that, you will also discover a city full of gardens and nature.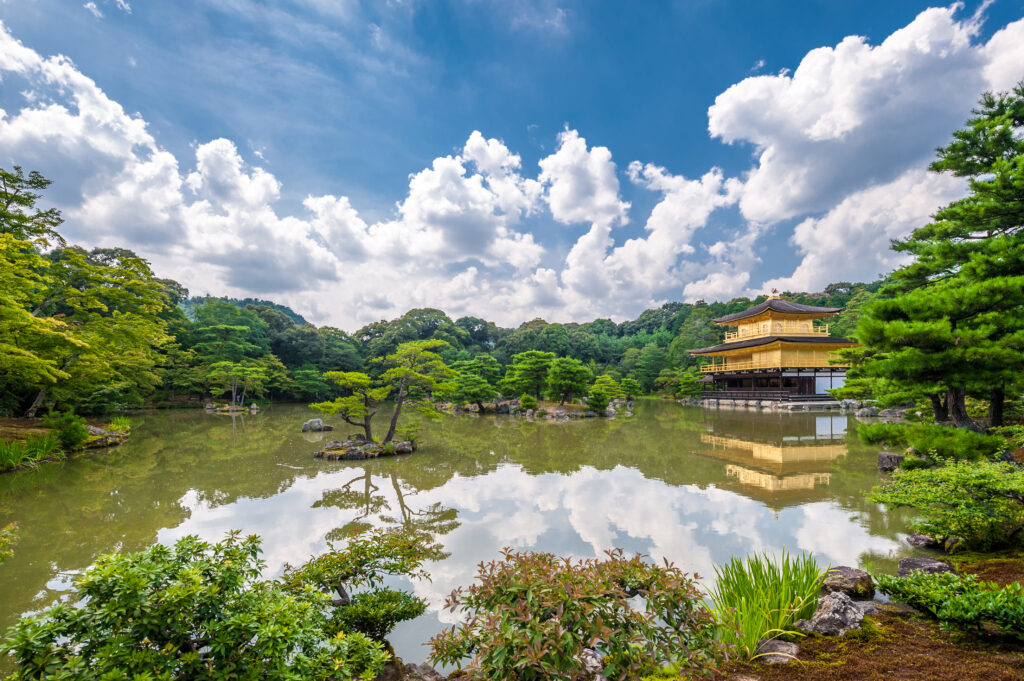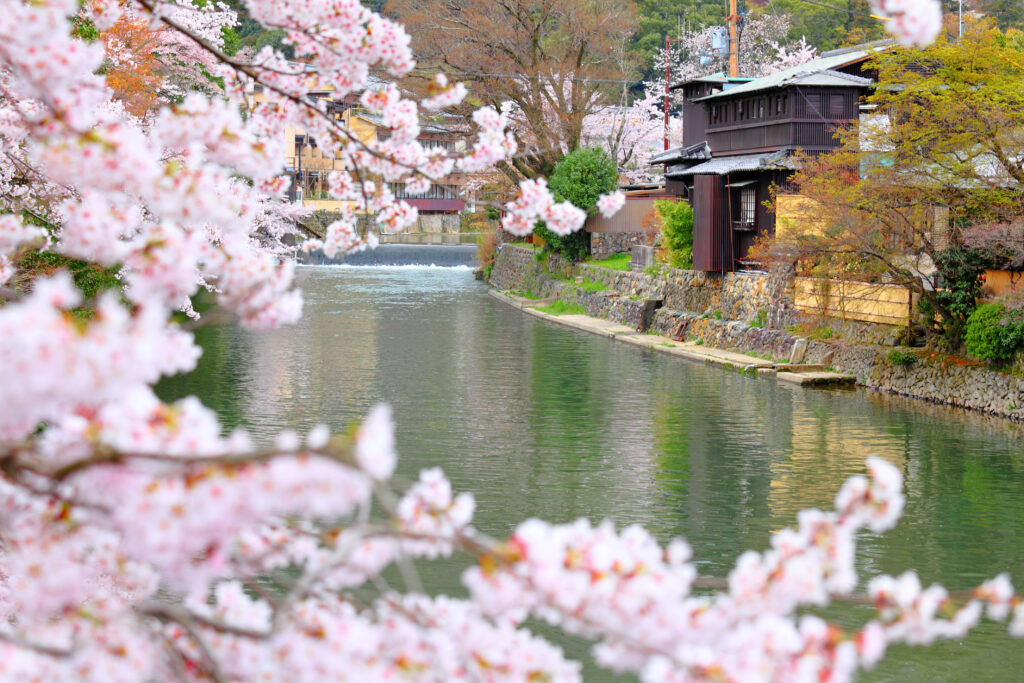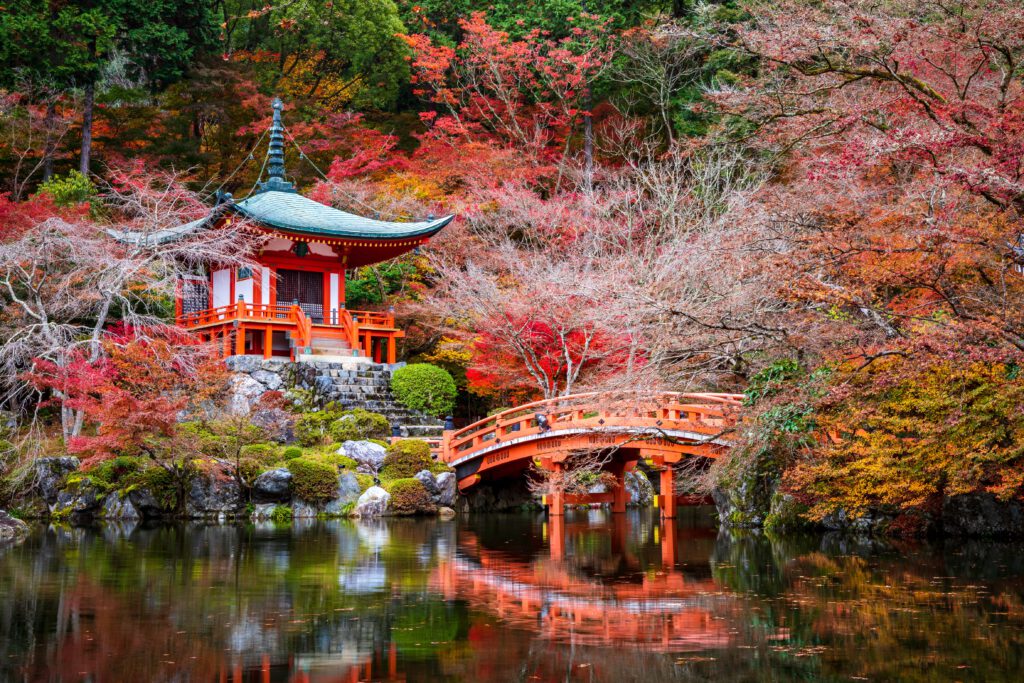 Getting around Kyoto (Japan)
Unlike other Japanese cities, Kyoto has a rectangular street system and many streets have names. The main street runs from east to west.
In the centre of Kyoto there are countless places for eating, shopping and entertainment; the centre starts from Shijo-dori (4th Avenue) to Kawaramachi-dori. JR Kyoto station is located south of Kyoto.
However, between north and south, the most important street is Karasuma-dori (Karasuma Street), which runs from Kyoto Station through the city centre to the Kyoto Imperial Palace.
Kyoto has an adequate public transport system for a city of its size, consisting of two underground lines, a dense bus network and several railway companies, whose lines are not always conveniently interconnected. Taxis and bicycles can be a viable alternative.
To explore Kyoto, I recommend using public transport with an IC card, such as Icoca, which is accepted on practically all trains and buses in the city. Alternatively, travellers intending to use the bus or metro should consider one of the available day passes. Below is more information on this.
KYOTO LINES
Karasuma Line runs from south to north.
Tozai Line runs from east to west.

KYOTO UNDERGROUND LINES
Hankyu Railway connects Kyoto station with Osaka and with a stop in Karasuma you can reach Arashiyama (bamboo forest)
Kintetsu Railway connects Kyoto with Nara.
Keihan Railway connects Kyoto with Nara.

SPECIAL KYOTO TICKETS AND PASSES
ICOCA a prepaid card that can be bought at any station. This card does not offer discounts but convenience in using transport.
Kyoto Sightseeing Card is a one- or two-day pass that allows you to use Kyoto's subways and trams as much as you want; it also offers discounts to enter some of the city's attractions. Cost: 1 Day 1,200 yen – 2 Days 2,000 yen.
Kyoto One Day Bus Card is a one-day pass that allows you unlimited use of Kyoto trams. Cost: 500 yen.
Tokyo Experience
Visit the biggest metropolis and futuristic city of Japan.
---
Flights from Europe or America in economy class round trip
Restaurant and tipical Isakaya Experience in Tokyo
All overnight stays in Japan
All visits and excursions mentioned in the program
Traditional Japan
A journey into the traditional Japanese world.
---
Flights from Europe or America in economy class round trip
Traditional Japanese Experience like Shodo Calligraphy, Ikebana flower lesson
All visits and excursions mentioned in the program
All overnight stays in Japan
Wild Japan
Explore the wild side of Japan.
---
Flights from Europe or America in economy class round trip
Transportation into wild areas anf forests
All visits and excursions mentioned in the program
All overnight stays in Japan